Ho-Ho-Home Invasion is a free festive stealth micro-game, made in three weeks, that we definitely didn't consider calling "Santa Game Solid". Help Santa enter houses, deliver presents, and leave – all without being seen or detected by the automated robots his elves have made to help him train.
ELF-MADE STEALTH TRAINING WAREHOUSE
This year, due to social distancing requirements, Santa can't undertake his normal training. Thankfully, his elves have crafted a fully automated Santa training area in a disused warehouse – with lots of "houses" for Santa to sneak his way through. Help Santa complete his training ahead of the Christmas period, by sneaking through all five house layouts to deliver presents in record time.
YOU BETTER WATCH OUT
Make your way through fake houses, past fake robot residents, and place some fake presents. Be sure to:
Peek around corners
Tiptoe to be quiet
Avoid training robots
Place presents
Safely escape the house
And most importantly
TRAINING ROBOTS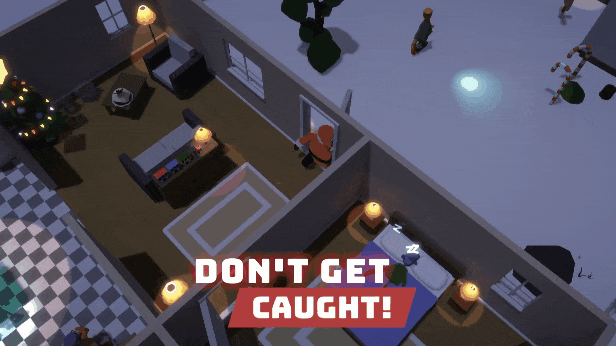 Make sure you avoid:
Watchers – tiptoe past them when their head is buried in a book
Sleepers – quietly place presents in the stockings at the foot of their bed
And Patrollers – wait until their back is turned before making a run for it! – Steam
Claim now